At McKenzie Orthodontics, We Welcome New Patient's — No Referral is Required!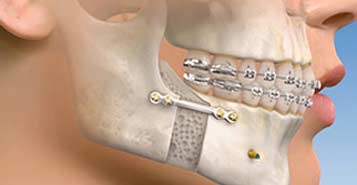 At McKenzie Orthodontics, if you have a more difficult case that cannot be solved using traditional orthodontic treatments, then surgical orthodontics may make a big difference for you!
Surgical Orthodontics is also known as Orthognathic Surgery. It is a type of orthodontic treatment that is used to correct severe cases that include bad bites, jaw bone abnormalities, and malocclusion.
When Is Surgical Orthodontics Needed?
If you have a bad bite or aesthetic concerns, you may need surgical orthodontic treatment. Typically, jaw growth stops by the age of 16 in females and by 18 in males. In order to qualify for Orthognathic surgery, your jaw must be done growing. Surgical intervention may be required when the jaws do not line up correctly, and a proper bite cannot be achieved using orthodontic treatment alone. Orthognathic surgery will help properly align the jaw, and then orthodontic braces can be used to move the teeth into their correct position.
How Does Orthognathic Surgery Work?
This type of surgery is typically performed by an Oral and Maxillofacial Surgeon. After your jaw has healed, then Dr. Angela Sharma can then fine-tune your bite. You will typically wear braces for about six to 12 months before and after surgery. Once the braces are removed, you will continue to wear a retainer to maintain your new smile.
What are the risks of surgery?
Like any major medical procedure, there are always risks; however, this is not a new field as it has been practiced for many years. We suggest that you talk to Dr. Angela Sharma as she will answer any questions you may have.
What is the benefit after surgery?
For most, having a bad bite, malocclusion or jaw abnormality corrected will allow them to lead a normal healthy life. However, the true reward of Orthognathic surgery is in achieving a beautiful, healthy new smile that will last a lifetime!
Our practice always welcomes new patients – no referral is required!
---