At McKenzie Orthodontics, We Offer a FREE Invisalign Consultation!
McKenzie Orthodontics is pleased to offer Invisalign Invisible Braces — the clear way to straighten your teeth without using traditional metal braces! By using Invisalign clear aligners, you can straighten your teeth without anyone knowing!
What Is Invisalign?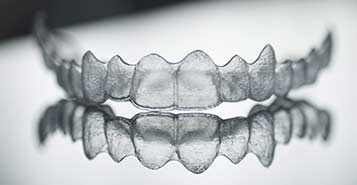 Invisalign uses a series of virtually invisible, clear aligners to gradually straighten your teeth without the use of traditional brackets and wires. With Invisalign invisible braces, you can still eat your favorite foods as well as brush and floss normally, because Invisalign's clear aligners are removable!
Many patients who have avoided orthodontic treatment because of the visible brackets and wires common with traditional orthodontics, are now happily and comfortably improving their smiles with Invisalign Invisible Braces. The benefits of Invisalign treatment include:
Invisalign® is an invisible way to straighten your teeth without braces.
The series of clear removable aligners straighten your teeth without metal wires or brackets.
Pain and discomfort is minimal
The ability to remove the aligns while eating does not affect your diet
Invisalign for Teens
At McKenzie Orthodontics, we know that traditional braces can make teens feel extremely self-conscious about their appearance. That is why we offer a revolutionary new orthodontic appliance called Invisalign Teen.
Many teens dread the thought of braces. Invisalign Teen works to alleviate these concerns by providing teens with an orthodontic appliance that cannot be seen, yet offers them full freedom of movement, while effectively straightening their teeth. Additionally, the clear aligners are completely removable, which is a huge difference compared to traditional braces.
How Invisalign Invisible Braces Work
A comprehensive orthodontic evaluation by Dr. Angela Sharma is used to determine if Invisalign Invisible Braces are the right option for you. Once you have made the decision to undergo Invisalign treatment, detailed records are taken of your teeth in order for Dr. Sharma to plan your treatment. These records are then sent directly to Invisalign's exclusive laboratory, where your custom aligners are made for the entire duration of your treatment.
You wear each set of aligners for roughly 23 hours a day for a total of 1-2 weeks, removing them only to eat, drink, brush, and floss before moving to the next set of aligners.
As you replace each aligner with the next in the series, your teeth will move — little by little, week by week — until your teeth have straightened to the final desired position.
You will visit Dr. Sharma every 4 to 6 weeks to ensure that your treatment is progressing as planned and to receive the next set of aligners.
Average Invisalign treatment lasts 9-18 months but will vary from case to case.
Invisalign Invisible Braces are a popular choice for anyone interested in improving their smile without drawing attention to the fact they're in treatment. To learn more about Invisalign treatment at McKenzie Orthodontics, contact us today!
Our practice always welcomes new patients – no referral is required!
---