At McKenzie Orthodontics, We Welcome New Patient's — No Referral is Required!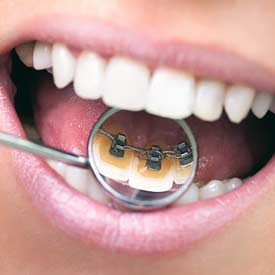 At McKenzie Orthodontics, we know that traditional metal braces may make some users self-conscious about their appearance! That is why unlike traditional braces, these braces are placed on the back of your teeth and cannot easily be seen.
Why Choose Lingual Braces?
Since Lingual Braces are placed behind your teeth, no one will know you are wearing them! Lingual braces allow you to continue smiling, even while you are wearing them.
These braces may be the perfect option for:
Adult professionals
Teenagers
Athletes
Musicians
Since these braces are custom-fit to each patient, this ensures a higher level of patient comfort. Aesthetically, they are a great option for those who would not feel confident wearing traditional metal braces. They are extremely convenient for those involved in contact sports or those who play musical instruments.
Who can wear Lingual Braces?
Lingual braces suitability depends on the patients occlusion. Please come in for your evaluation to see if you are a candidate.
How Lingual Braces Work
These braces are placed on the back side of your teeth. The good news is they are not visible from the front. Just like traditional braces, these lingual braces straighten your teeth using the same amount of pressure and time as traditional metal braces would. Since the braces are customized to fit your unique mouth, your existing teeth are used to make an impression. That impression is then sent to a laboratory where they use computerized equipment to create the metal brackets that fit on the back of each of your teeth.
When the brackets are returned to Dr. Angela Sharma, she will then cement them into place, and you are now on your way to a beautiful new smile!
To learn more about Braces, please contact McKenzie Orthodontics to schedule your appointment with Dr. Angela Sharma!
Our practice always welcomes new patients – no referral is required!
---